So we SORT of have a bonus stage this week! Pie and I have been working on something that has been a long time coming – MERCHANDISE and SWAG!! Today I am making our first reveal and I must say that Pie and I are both super excited to finally get to this point. So without further adieu, we're very proud to introduce our first T-Shirt design:
Minor Inconvenience based on Gaming the System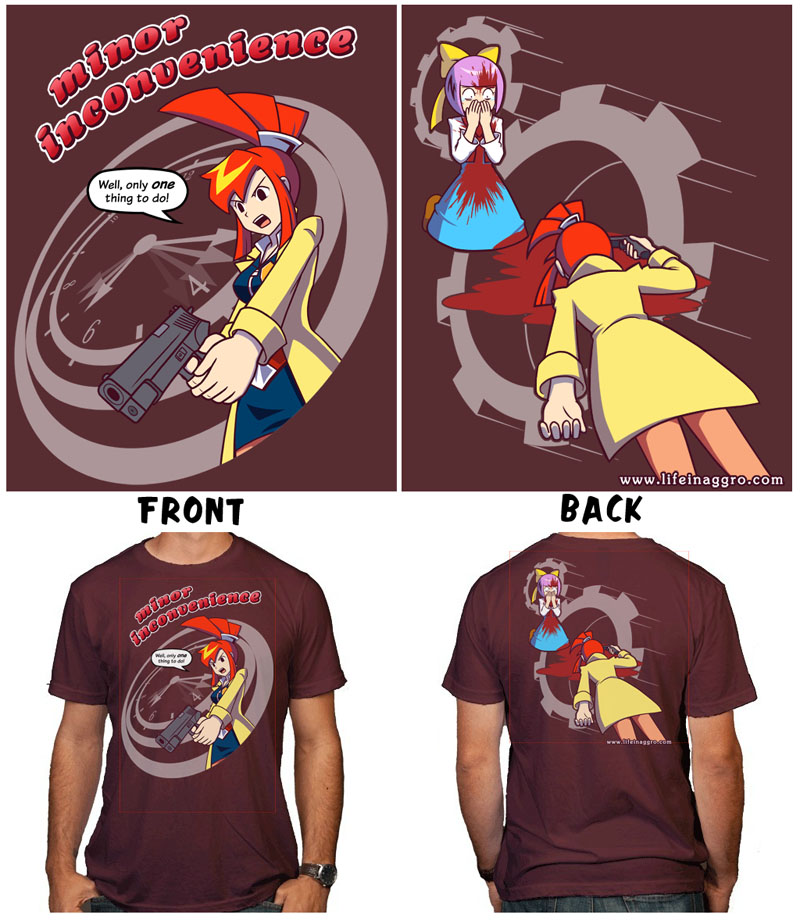 Although this design and the one forthcoming is pretty much pulled right off of the comics, we had to rebuild the art from the ground up and stylize them to be as cool as we could. We wanted to make our first shirts were designs we wanted to wear and something we hope you all will find to be really cool.
So of course the big question is: WHEN CAN I BUY THIS SHROUD OF AWESOMENESS?! Well, keep checking back to the thoughts post as I will be updating our progress. We just finished the minor inc. design, are almost complete with the next design, and are nearly settled on a printer. Within a week we will be sending off the graphic files to the shirt company to do our first proofs. As soon as we get the results and are happy, we will announce it here!
I have to say, the last couple months have been packed full of learning and stretching ourselves to our limits. It has been exhausting, fun, nerve-racking and full of joy. I finally feel that we "earned" the right to produce LiA merchandise – I know that may sound silly to some, but to be honest I really felt that we needed to cut our teeth on the whole creation process before we did this. It comes at a good time too because to be honest, my body is getting a little upset at me for feeding it so much dry dog food...
Also, we have an extended comic (similar to It's Burger Time!) coming this week featuring Catherine! The comic will likely be posted Saturday morning due to its size, but we will be pushing to get it done as fast as possible. Stay tuned and enjoy the week everyone!